Q&A with Rishab Hegde, Product Lead at Rippling on must-have tools and workflows
Each week we talk to people within our network to learn about how they work, their processes, tools they use, and things that inspire them. It's an opportunity to get a sneak peek into how other builders and makers do their jobs. So you might get inspired and learn something new, or, at the very least, get a song recommendation.
This week we talked to Rishab Hegde, Product Lead at Rippling, the #1 fastest growing startup in the bay area.
p.s. –Rishab's favorite song is Innerbloom by RÜFÜS DU SOL, so feel free to listen while you read to put you in the mindset 🙃.
What do you do?
I'm a product manager at Rippling. At Rippling I am working on our spend management product, which combines corporate cards, bill payments and expense reimbursements. Since we also do payroll, we can give businesses the visibility, control and consolidation of their spending in one place.
What is one tool you can't imagine your life without?
The answer used to be Google Inbox and then they deprecated it. So now I'm kind of a nerd and just hack Gmail to do the exact same stuff. All my to-dos are just emails to myself that I then use Gmail to archive, snooze and triage.
What other tools do you use?
I have to use Jira at work but would like to use Linear instead :). I typically use the G Suite products, Slack, and Confluence for work.

I use Bear for personal notes and journaling. And then, obviously Jam.
Which tool have you discovered recently?
Yeah, there's actually two.
Threads is like a Slack replacement. In Slack today, I get overwhelmed by way too many messages. I'm constantly kind of lost and I need it to be more like Gmail, where it's actually like an inbox for me to go through. And I think Threads has built exactly that. It has all the features of Slack (including integrations) but also a way better interface to be able to have more in depth, threaded conversations and actually have an inbox to go through.

The other tool is called Capture. It's a combination of a to-do list, Gmail and Pocket. You can use it as a to-do list and also capture articles and categorize them that you want to read later.

One thing that you learned recently about how to be more productive and happy at work?
Communication is a big one in terms of just being more aligned across different teams. I think especially for managers and product leads, It's very important to have a culture of communicating across organizations to keep people in sync when things are going to slip, stuff like that.
But also the other way, in terms of keeping the team up to date on how everything is going in an honest and productive way on a weekly basis. At least once a week, we have a cross functional sync where marketing, legal, comms and risk along with engineering and design helps everyone stay in the loop and makes everyone feel a kind of ownership. Instead of being siloed, everyone understands what we are working towards.
A favorite feature of your desk setup?
My M1 Macbook.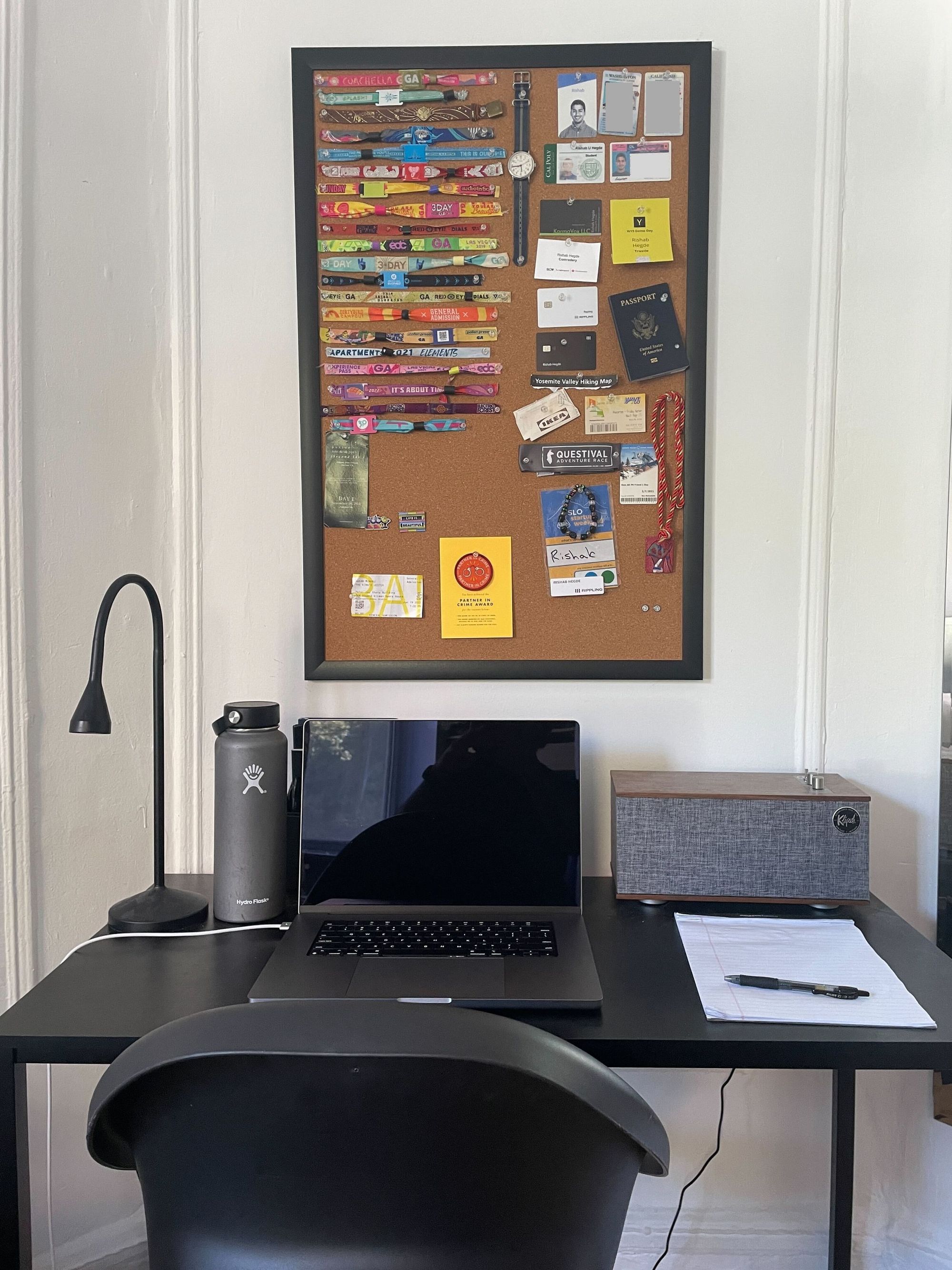 I used to need a mechanical keyboard, multiple 60 Hertz 4k monitors. And then once I got my M1 16 inch Macbook I just stopped. I felt I didn't really need anything. I needed AirPods. At home, I have these really nice Stanmore speakers on my desk that I love using. I love having a little legal pad, where I can jot down notes with a pen and paper, but nothing really crazy.
Where can people follow your work?
You can follow me on twitter and my personal website where I occasionally post.
Dealing with bugs is 💩, but not with Jam.
Capture bugs fast, in a format that thousands of developers love.